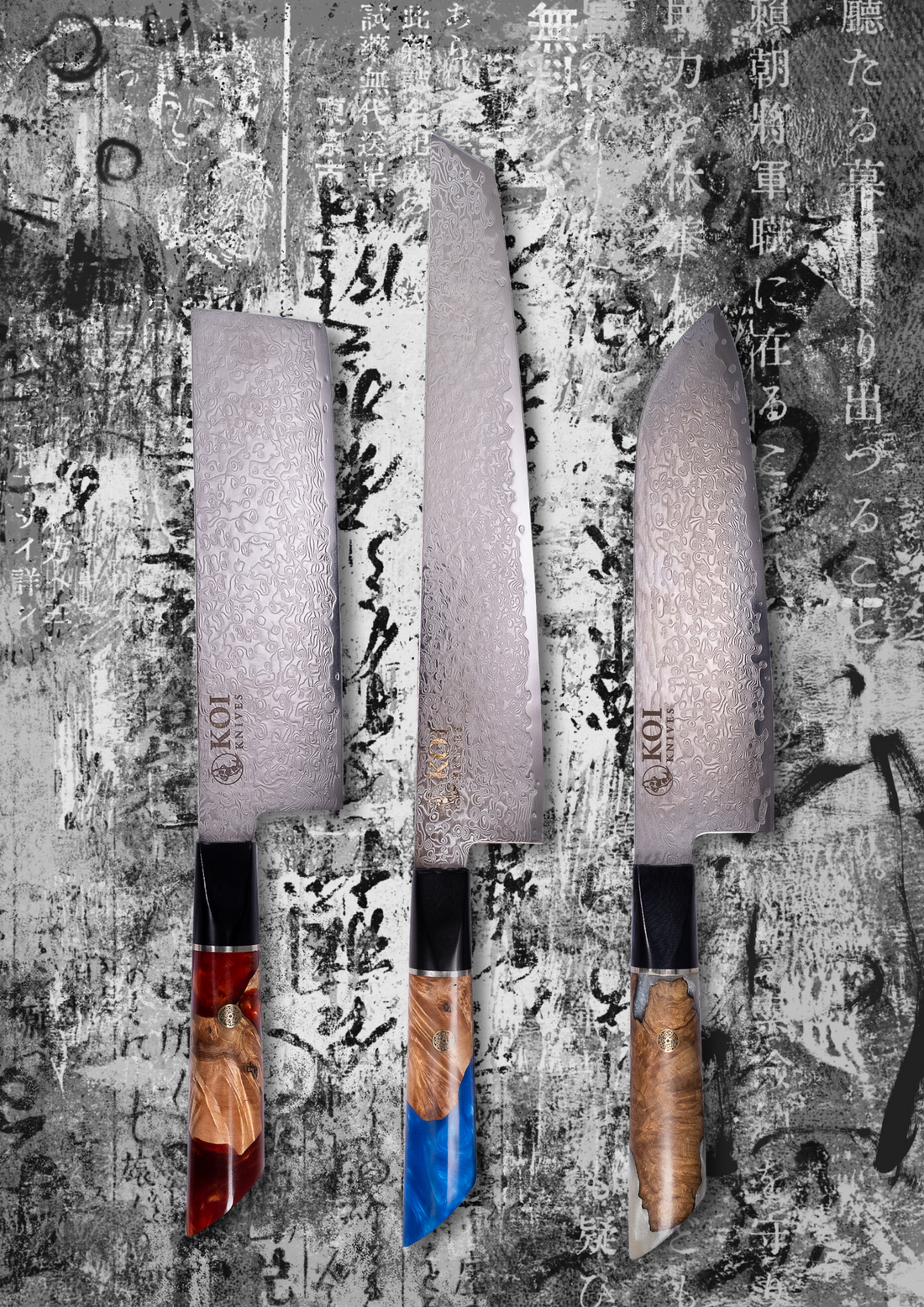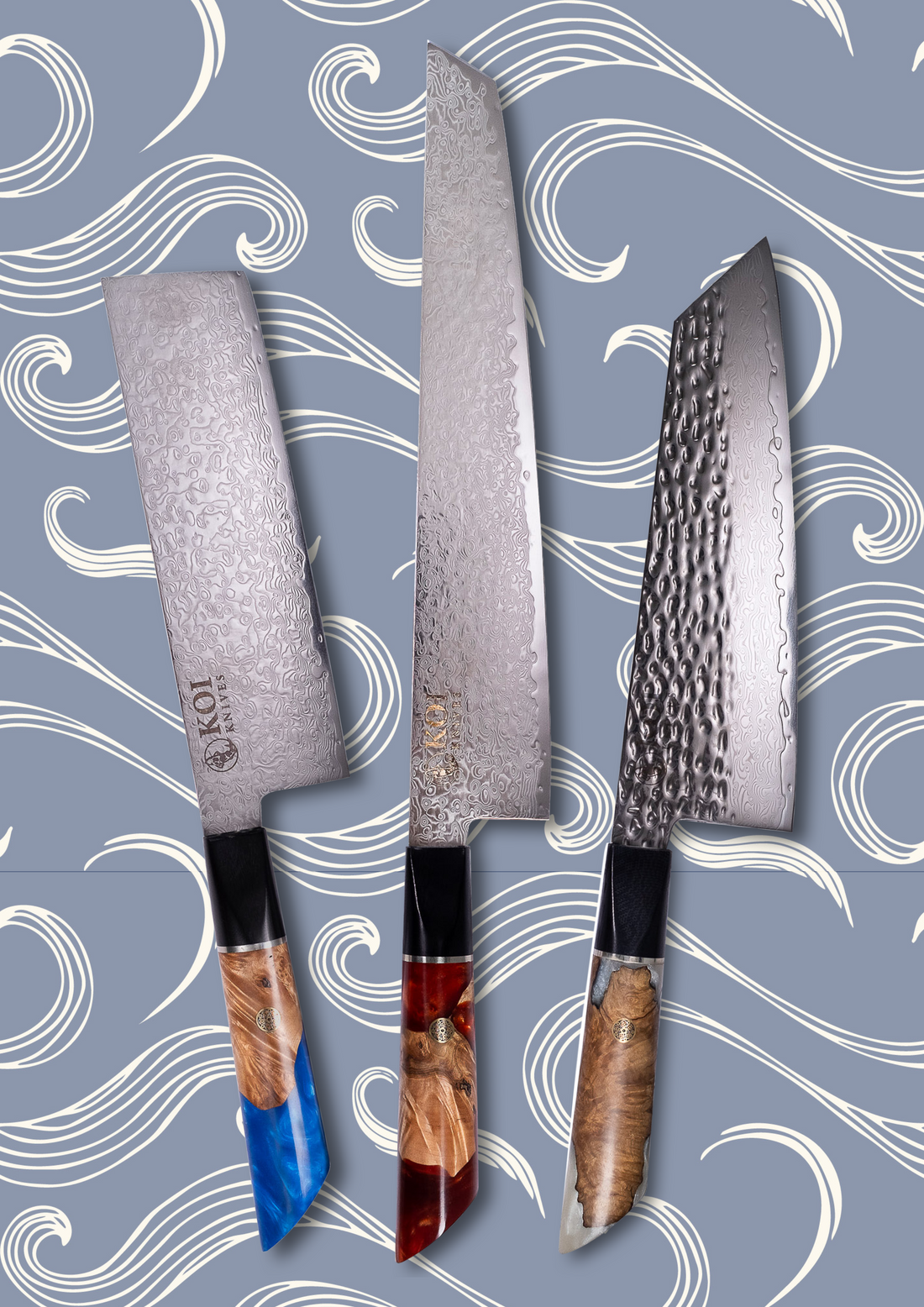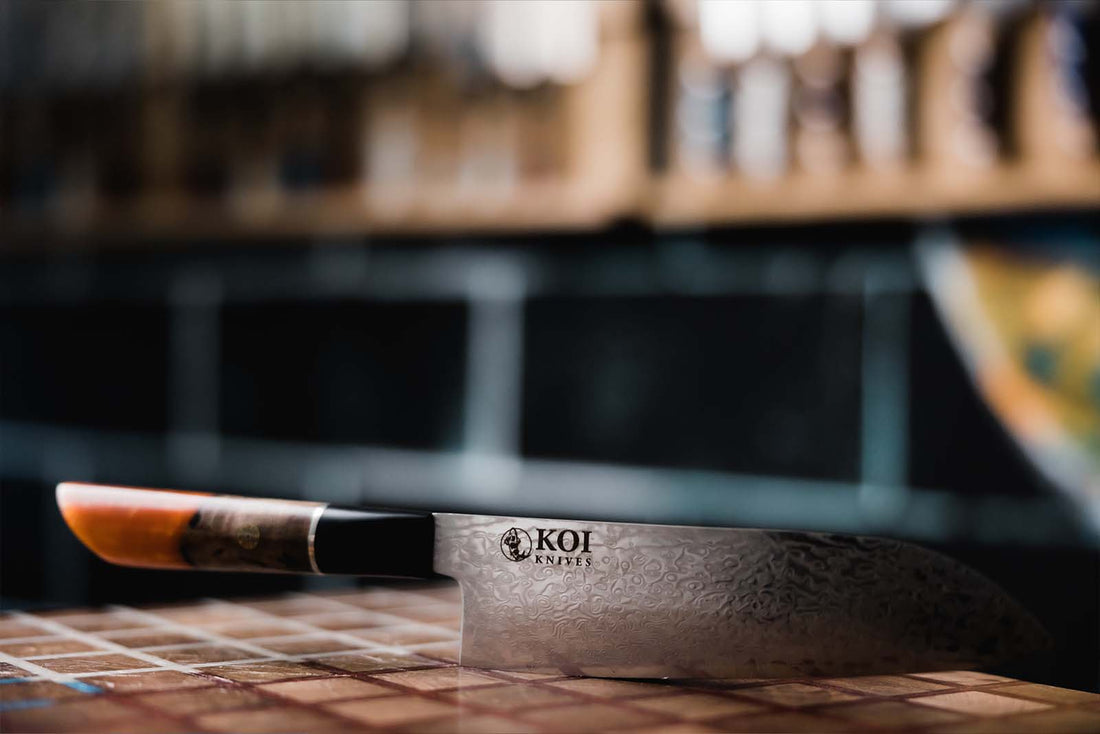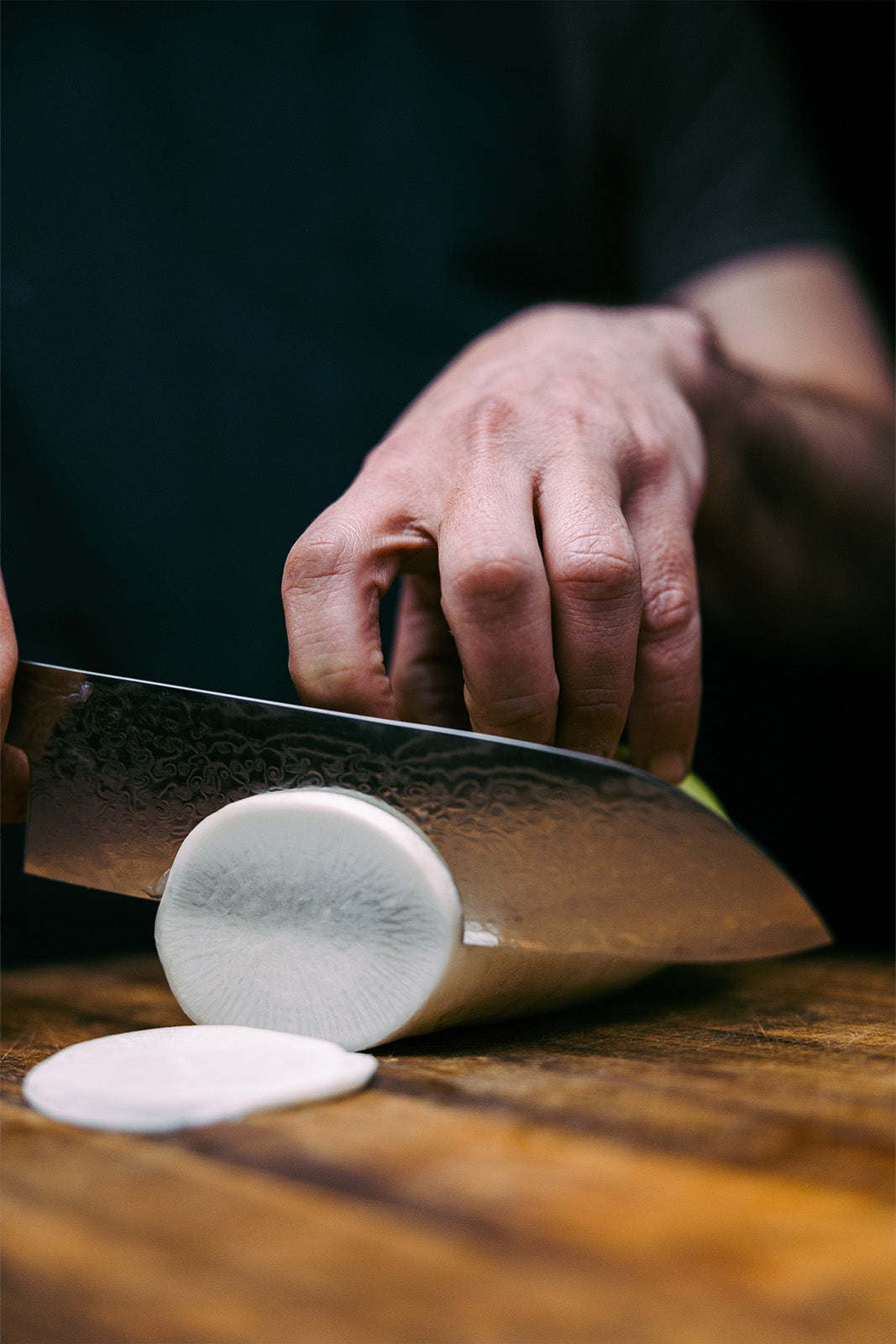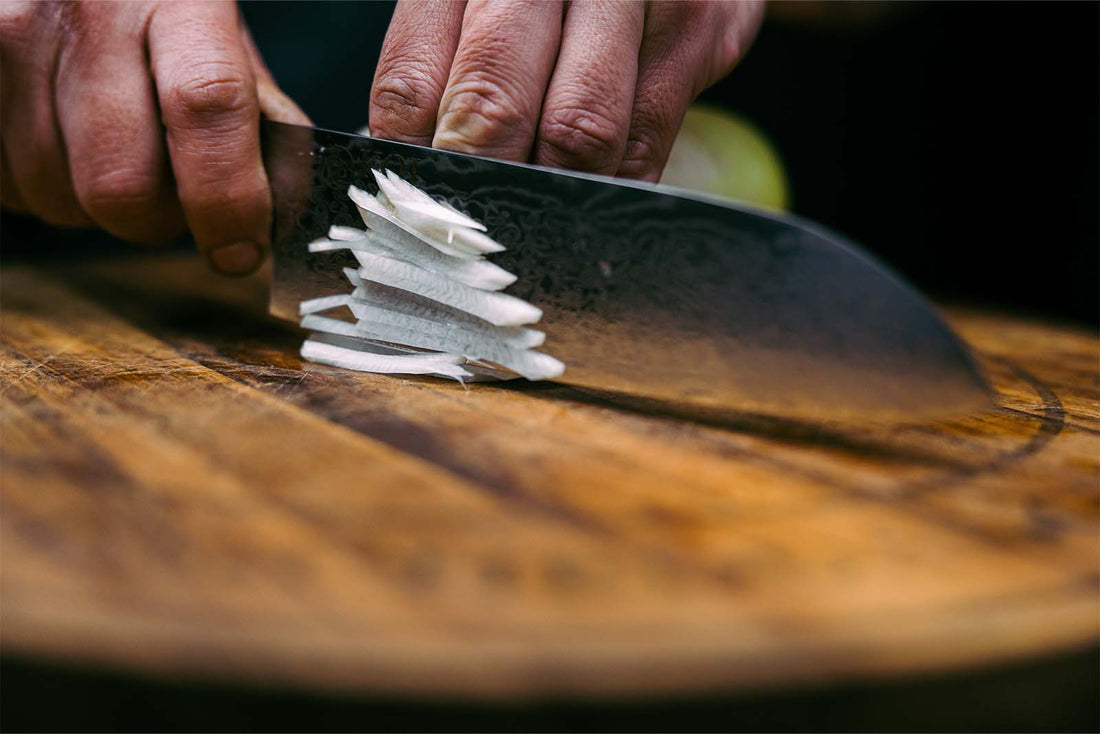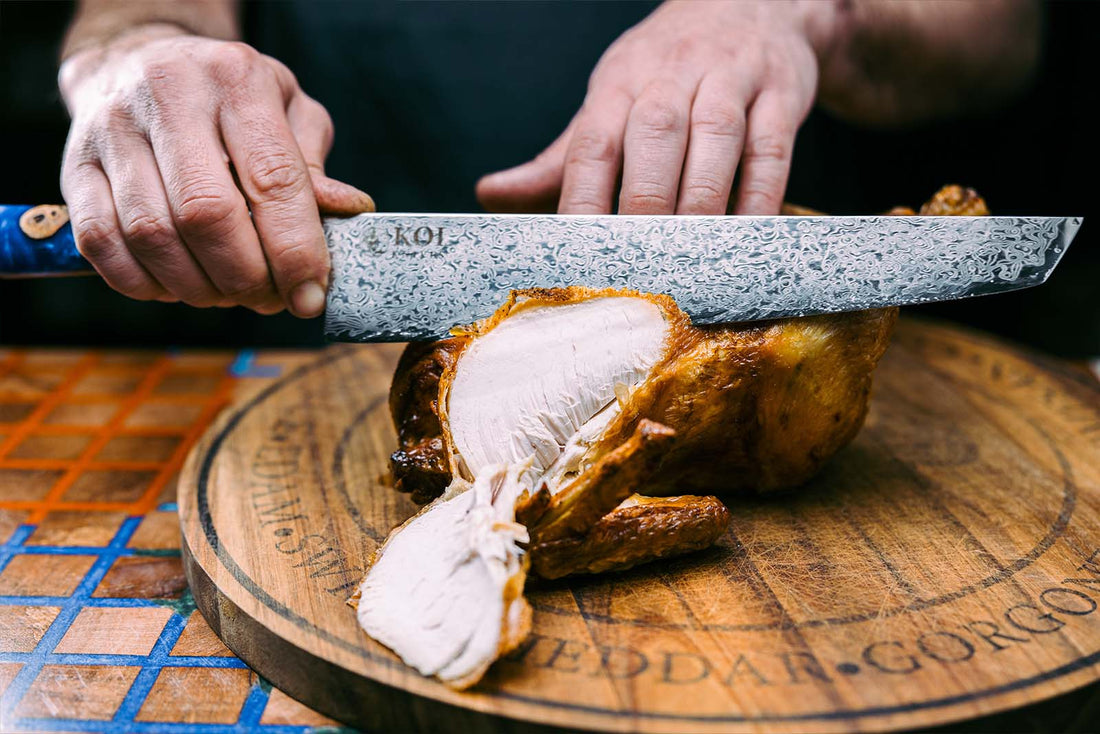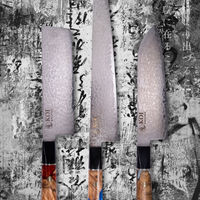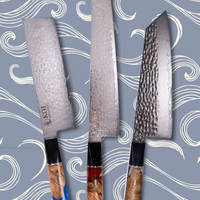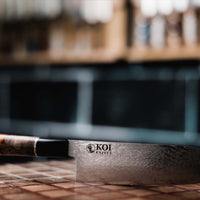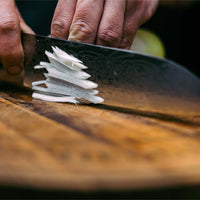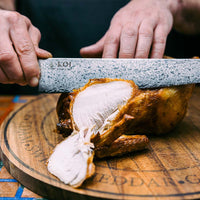 A stunning Japanese knife collection with Australian wooden handles which will give your nightly dinners a lift :)These blades are sharper and lighter which aids those looking for a more intricate set of tools.
If you want a random collection of different colors just let us know in the notes and we will contact you to confirm.
Enjoy your Australian handle + Japanese blades. The Japanese knife collection at Koi Knives.
Description
Nakiri Knife
Blade Length: 175mm (6.88") | Over All Length: 325mm (12.79") | Blade Thickness: 1.8mm (0.070") | Weight: 180g (6.34oz) | HRC 58-60
"Na" meaning "Vegetable" and Kiri meaning "to cut" the Nakiri is the knife used for chopping vegetables. The Nakiri knife has a flat blade edge and may appear to look like meat cleaver however when you peer down at the spine of the blade you will notice it is a very slim blade built to chop through vegetables with speed and precision.
Sujihiki Knife
Blade Length: 260mm (10.23") | Over All Length: 370mm (14.56") | Blade Thickness: 2.8mm (0.11") | Weight: 215g (7.58oz) | HRC 58-60

The Sujihiki knife is a long sharp blade specifically built for slicing. The sharpness and length of the blade on a Sujihiki (similar to Yanagiba) allows its holder to slice through a large piece of fish or steak in a single motion.
Bunka Knife
Blade Length: 185mm (7.28") | Over All Length: 335mm (13.18") | Blade Thickness: 3.2mm (0.125") | Weight: 240g (8.46oz) | HRC 58-60
The Bunka knife is a utility knife that is crafted from strong, thick Japanese steel. The hammered side of the blade also reduces stickiness from starchy vegetables like potato and pumpkin making it the perfect knife for many types of preparation.
All blades are high carbon AUS10 67 layer Damascus Japanese steel. 

The handle wood was sourced from McLaren Vale, the wine region around 40km South of Adelaide. Exactly where we cannot say (our secret shed) then stabilizes and infuses the handles with resin before inserting on top of the blade. We choose from the trees in the area - olive wood, Shiraz grapevines whatever needs to be chopped.
The Damascus steel (AUS10) comes from its Japanese source, Aichi (not far from Nagoya) and it is finished with an ultra-sharp blade edge to assist chopping and slicing. 
For Australian customers:
We offer $9 flat-rate Shipping Australia-wide.
Orders are dispatched within two days of purchase. For all domestic orders, we use Australia Post where current delivery times are 1 to 5 days.
If the knife is for a birthday let us know and we will upgrade to express at no charge.
For overseas customers:
We offer $29AUD flat-rate shipping for all regions (larger orders are rewarded by keeping the shipping cost fixed).
For overseas shipping, we use DHL or TNT, the two biggest transport companies in the world (The German's versus the Dutch). Delivery times tend to vary from a week to a month, however we do provide tracking information for clarity.
Any issues or problems let us know. If it doesn't arrive then we will refund you or re-make and re-send.
To keep this simple, we are happy to refund or replace any issues for 10 years.
Hopefully by the end of the decade we have robots making us dinner and you may not use your knife as much.
A very good question. Here's a short answer.
What not to do?
Don't put it in the dishwasher or leave it in a sink full of water as this can lead to corrosion. We also recommend against cutting on a glass chopping board as this is terrible for the blade (can lead to chipping).
What to do?
Our knives have a high carbon concentration meaning they are harder at the edge. This means less honing is needed (i.e. sharpening with your rod at home or in the kitchen).
With this type of steel you should have it sharpened by a sharpener (ideally on a whetstone to stop the steel heating). How often varies depending on usage however most people do it every 3-6 months.
To summarise, less honing and more stoning.
If you need help finding a sharpener near you, give us a bell and we will do our best to assist.
Tax for Australian customers:
Australia is easy. We charge 10% GST (which is included in the price). 
Tax for overseas customers:
Rest of the world is a little more complicated. To date, we have experienced very few tax issues at customs however we're happy to talk with you if you're unsure (and we can pass on what has happened for knives sent to the same region in the past).