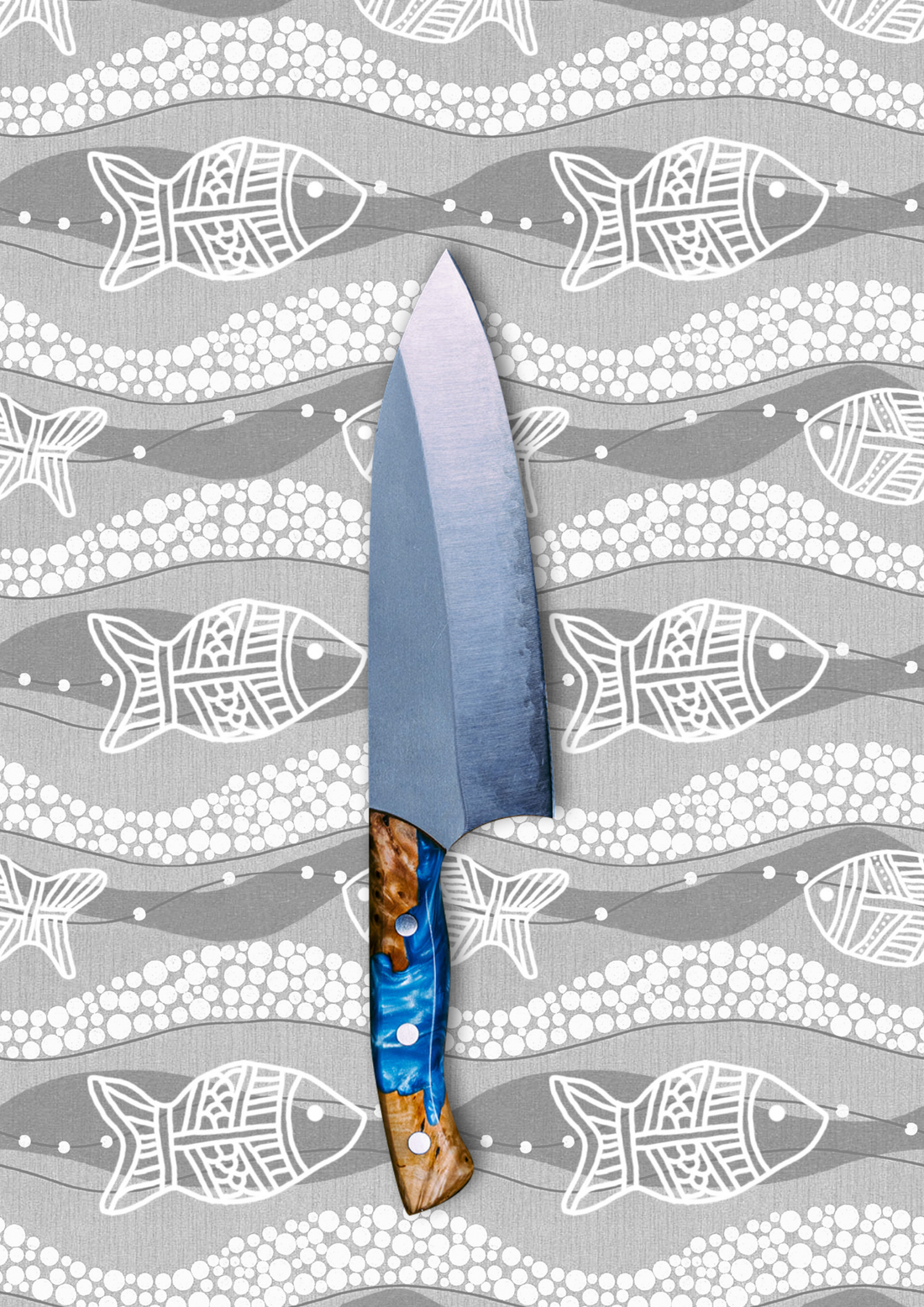 BBQ All Purpose | Great White Shark
The Great White Shark is a western-style version of the Japanese Deba knife. The big difference is it has a double bevel as opposed to the Deba's single to better suit the western user.

Its purpose is predominantly an all-purpose prep knife for both meat and veg before the grill. With a thick belly to the blade, it can deliver strength behind every cut, with a shallow roll on the cutting edge to suit chopping, slicing and roll-cutting.
Finer Details
Blade Length: 187mm (4.75") | Overall Length: 315mm (8") | Blade Thickness: 3.7mm (0.145") | Weight: 320g (11.28oz) | HRC: 60-61
Our knives are designed here in South Australia by Shannon, a 2nd generation blacksmith. We source high quality Japanese VG10 steel for a robust blade with rigid construction, corrosion resistance, and most importantly, a razor sharp edge that holds for ages.
We pair this steel with Australian wood handles foraged from around our area; mainly Adelaide Hills and McLaren Vale.

The knife is finished with a 50/50 double bevel edge, sharpened to 15° angle. This creates a keen edge, without sacrificing toughness or performance. 
For Australian customers:
We offer $9 flat-rate Shipping Australia-wide.
Orders are dispatched within two days of purchase. For all domestic orders, we use Australia Post where current delivery times are 1 to 5 days.
If the knife is for a birthday let us know and we will upgrade to express at no charge.
For overseas customers:
We offer $29AUD flat-rate shipping for all regions (larger orders are rewarded by keeping the shipping cost fixed).
For overseas shipping, we use DHL or TNT, the two biggest transport companies in the world (The German's versus the Dutch). Delivery times tend to vary from a week to a month, however we do provide tracking information for clarity.
Any issues or problems let us know. If it doesn't arrive then we will refund you or re-make and re-send.
To keep this simple, we are happy to refund or replace any issues for 10 years.
Hopefully by the end of the decade we have robots making us dinner and you may not use your knife as much.
A very good question. Here's a short answer.
What not to do?
Don't put it in the dishwasher or leave it in a sink full of water as this can lead to corrosion. We also recommend against cutting on a glass chopping board as this is terrible for the blade (can lead to chipping).
What to do?
Our knives have a high carbon concentration meaning they are harder at the edge. This means less honing is needed (i.e. sharpening with your rod at home or in the kitchen).
With this type of steel you should have it sharpened by a sharpener (ideally on a whetstone to stop the steel heating). How often varies depending on usage however most people do it every 3-6 months.
To summarise, less honing and more stoning.
If you need help finding a sharpener near you, give us a bell and we will do our best to assist.
Tax for Australian customers:
Australia is easy. We charge 10% GST (which is included in the price). 
Tax for overseas customers:
Rest of the world is a little more complicated. To date, we have experienced very few tax issues at customs however we're happy to talk with you if you're unsure (and we can pass on what has happened for knives sent to the same region in the past).
An Edge in the Kitchen
Edge retention is crucial for keeping your knives razor sharp. We choose rock-hard steel at 60HRC to ensure your edge is Hattori Hanzō sharp out of the box, and keeps its edge for much longer than other knives.
QUALITY JAPANESE ENGINEERING
Our blades are forged in Japan by Takefu Steel. We select VG10 steel for its high carbon content, corrosion resistance and quenched hardness. This results in a knife with incredible sharpness, balance and toughness.
INSATIABLE FORAGERS AND TINKERERS
We gather symbolic and interesting woods from our surroundings to make unique handles. Each piece carries a story and origin, set into coloured resin to create functional art in your kitchen.